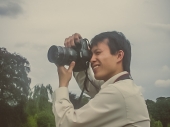 A fiery passion for photography, boundless energy, and a keen eye for detail are qualities that make Ken Lam the ideal wedding photographer.
Ken's unique style is in his ability to capture natural and intimate moments. He believes that every wedding is unique and different, but ultimately the end results are the same – that is, a portrayal of beauty, love and happiness through his photography.
As Ken has learned over the years, that the perfect image is not just taking a picture, but also to finish it beautifully with fine digital techniques that can only be mastered through Adobe skill set, experience and a set of highly specialised tools.  This philosophy has indeed been recognised in 2009, when Ken was awarded the coveted Kodak UK Wedding Photographer of the Year.
Ken has also earned himself the membership with the Wedding Photojournalist Association (WPJA) and the Artistic Guild of the Wedding Photojournalist Association (AGWPJA),  international photography associations that represents the most discriminating photographers around the world technically, creatively and visually. Less than 5% of the world's photographers qualify for this membership with the WPJA and AGWPJA.  This serves as a recognition to Ken's talent and professionalism.  This membership also demonstrates his ability as a true wedding photojournalist and his distinctive and artistic vision towards wedding photography.
He is also the only qualified member of the Fine Art Wedding Association: AGWPJA, for the Tyne and Wear region in England.
With great passion in  photography comes a persistent craving to improve his craft, Ken attends intensive photography workshops for new inspirations, techniques and ideas.  Ken has attended training by the world-class master wedding photographers, at a workshop held in Italy by Yervant and training held in England by Jeff Ascough.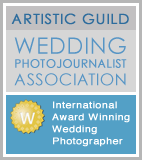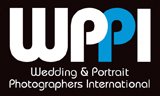 Photojournalism (also known as Reportage Photography)
This is his preferred style of wedding photography – a candid, documentary and unobtrusive approach. Capturing human emotions in its most natural form.
Why Wedding Photography?
The whole setting of a wedding; the beautifully-dressed people arriving at the church, the nervous anticipation of the bride waiting, the anxious arrival of the sometimes-late bride, the spiritual ceremony, the crying mother… and, the crying father, the laughter and roaring.  This is what he looks forward to at every wedding, for every moment is precious, moments worth capturing.
Services
Ken Lam Photography offers:
Wedding day photography including English, Chinese, Jewish and Indian weddings
Pre-wedding / engagement portraits
Food photography
Family portraiture
Baby photography
Bar Mitzvah photography
Boudoir photography
Coffee book or contemporary wedding album production
DVD photo slideshow
Ken Lam goes International
Due to his interest in culture and travelling, Ken Lam will travel anywhere in the world to capture destination weddings. In UK,  he covers weddings in areas such as Newcastle, London, Nottingham, Manchester, Durham,York, Birmingham, Glasgow, Edinburgh, or anywhere else required.
Although Ken is based in Newcastle, his wedding assignments has already taken him beyond UK to places like Prague, Venice, Rome, Tuscany, Paris, Hong Kong, Penang, Kuala Lumpur and Kota Kinabalu in Borneo.
Ken speaks three languages: English, Cantonese and Mandarin fluently.
Where is Ken Lam Photography based in?
Born in Hong Kong, Ken now lives in the beautiful and architectural city of Newcastle-upon-Tyne, United Kingdom.