Calvin, one of our friends, shared with us a time when his teacher once described him as a "butterfly" – a creature that works very hard for objects around them such as the flowers to get the glory and beauty, the butterfly then flies away silently. This reminds us of the people who have helped us make our wedding such a beautiful memory. We would like to call them our "butterflies" and we dedicate this article to them.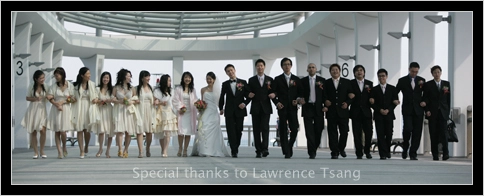 Each and every one of these individuals made their contribution in a special and big way.
Our parents:
We want to say a million of "thank you" to our parents – we will never forget all the wonderful things that you have done for us. You are our heros in life and we are very blessed to have you as our parents. We love you always.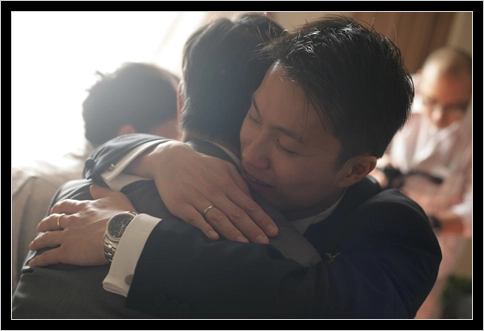 Ee Poh Kim (sa-kor): Thank you Sa-Kor for organising the venue for Melaka. You also prepared a "vow" for Leung to say to Ling while on his knees!, this has created a very memorable scene for our videographers to record into the Highlight of the Day video in Hong Kong. Thank you sa-kor for making us laugh so much!
Ee Shedden JJ: Joon, you are the BKL (Bao Ka Liao – Hokkien term for "he who does EVERYthing") man! You have always been there, not wanting attention to yourself. Hey you appeared 3 times in the Highlight of the Day video in Hong Kong (more than you think!). If anyone who reads this sees Shedden in the video for more than 3 times, please let me/him know 🙂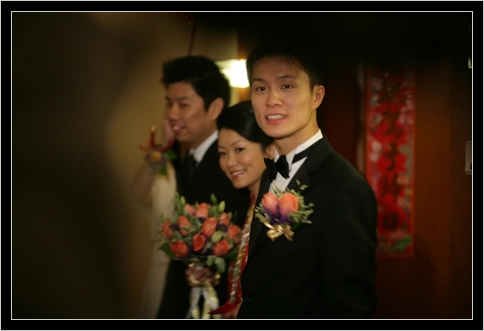 Lam Kwok Fai: Fai, you helped us take the instant photos in Malaysia. In Hong Kong, you gave a wonderful speech. You also accompanied us to buy the jewellery. You were a great host for our friends and relatives. Thank you for downing the last shot of VSOP for Leung! You are an outstanding brother.
Carrie Ee Wei Ling: You are the perfect bridesmaid for a bride. Thank you for being there for us all the way from our time in Malaysia to Hong Kong. We still remember that you stayed up with Ling to decorate, clean the room and also for the combing of hair 3AM! You also gave Ling the perfect complexion by giving her a luxury facial at 4AM! We cannot thank you enough.
Lam Kit Ying: You did all the behind-the-scenes work. You picked such a beautiful "mandarin-ducks" KUA (red traditional dress) for Ling. You also did Leung's make-up (haha) for him in Malaysia and Hong Kong. You are a wonderful person, a wonderful sister, with a wonderful heart.
Lam Siu Kei: Kei, you helped us buy the wine, helped us move to the hotel, picked Anil from the airport with Leung. You also came to pick us at the tram stop to return to the hotel. You are a great brother Kei.
Joanne Ng Shin Rui: You gave us the gift of music and the gift of friendship. Joanne, you understand the meaning of "multipurpose" very well, 🙂 You used the back-up flowers for Ling's hair as the flowers to hold to march-in during the ceremony. We are very touched that you have come from Malaysia to join us on our wedding day in Hong Kong. Thank you very much Joanne!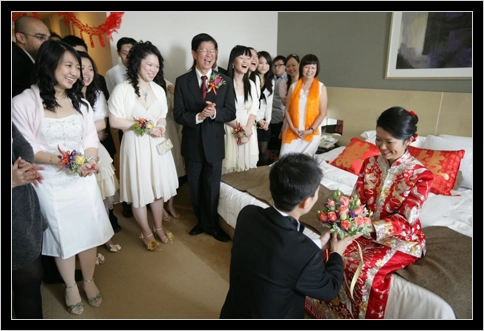 Calvin: You are a special friend to Leung. You were like a rock throughout the wedding day. You bought the flowers for Ling, groomsmen and bridesmaids. You organised vans to carry our guests and the bridal car. You gave us such memorable surprises on the night in Hong Kong. All that you have done made us feel very special. Thank you Calvin for giving us so much happiness.
Hoi: Hoi, we will never forget how you have helped us with collecting our reception photo, drove us around to buy chocolates for the wedding favours, organising the groomsmen on the day, buying the wine, typing the rundown at 1am! You helped us realise our wedding plans. Thank you Hoi. You are a great "heng tai" (brother)! No wonder Leung kissed you so hard in the video!
Victor Ng: You are a great guy and will be a great husband for Carrie. Thank you for helping us at our "pre-wedding" photoshoot, drove us around in Malaysia, and being our MC at the reception in Malaysia. You are so professional and calm. We both like you very much. We look forward to welcoming you into our family!
Elaine Shek Lai Mei: When we watch back on our Highlight of the Day video, the flowers in Ling's hair reminds us of you. You helped us order the bridesmaids dresses and flowers for our moms. Although Ling has not known you for long, you have been a great help and comfort. We wish you and hubby have the most wonderful day on your wedding day and a blissful marriage.
Tat: You helped Leung scan his childhood photos for the childhood montage. Without you, we wouldn't have been able to get those photos eletronically. Thank you Tat and Karen for her beautiful card. We are so surprised when you also travelled to Fanling to join us for lunch before we left. Your sincerity have touched Ling.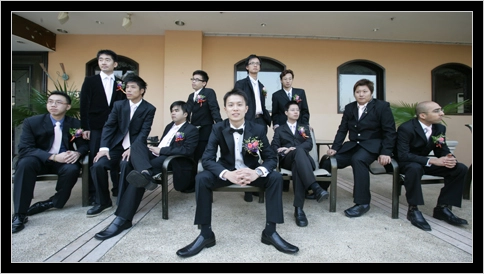 Lee Yee Cheng: Lee, you have many dreams and you have the ability to fulfill them (just not all at once!) Thank you for spending endless hours on the impressive drawings for our table numbers. You have an amazing talent in art. Thank you for coming all the way from UK and bringing all the pashminas and ties. Thank you Lee for being a great friend!
Chris Tang: Chris, you have helped us in so many ways. You helped us laminate Lee's drawings for the table numbers, folded the wedding favour boxes in Malaysia and Hong Kong, you held Ling's dress and bridal purse during the day in Malaysia. You also helped drive JJ's car to drive Leung's family around in Malaysia. You are a lovely person and a wonderful friend. Thank you Sai-Fa!
Ms Chow: Your speech for Leung was very touching. We are so happy to have you throughout the day. You still look like the Ms Chow Leung knew 14 years. We look forward to seeing you in July.
Ms Chung, Ms Kay and Siu sir: Despite not rehearsing before, both of you did so well with being the Masters of Ceremony of the night at HK. We enjoyed the childhood stories you told, it made us laugh so much! You are so animated and humorous and I am so happy to have teachers like you.
Yau: Yau, you were so concerned if we had food or drinks on the wedding day in Hong Kong. After the ceremony, you bought for us the apple buns and coffee from Pacific Coffee. Yau, you are such a caring person with a heart of gold.
Kelly Wong (17), Candy Wong (18) & Siu Hang, Wong Chi Cheung: Childhood friends of Leung. Thank you 17, 18 for helping Ling into her wedding dress, changing her jewellery. Siu Hang, thank you for helping us to distribute the invitation cards, the HK highlight video showed that you enjoyed the washabi during the bridemaids's challenging. Cheung, your creative games ideas paid off. Thank you for hand-making the net and preparing the tea light games.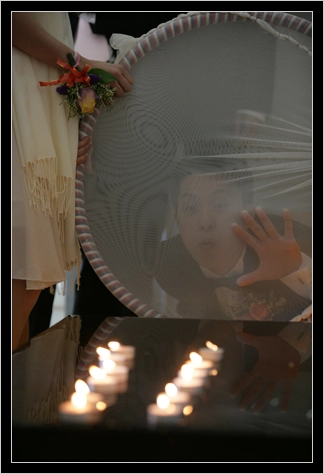 Gan Chen Chuan (CC): You were there to help us the moment we arrived at the hotel. You also helped us with the march-in music at the registry. Thank you for coming from Singapore to celebrate our special day with us, your first trip to Hong Kong. We will treasure the times we spent in Hong Kong. It felt surreal to have meals with you in a foreign country (not Malaysia)!
Anil Solanki: You were such a good sport in joining the rest of the groomsmen to eat the awful wasabi cake! We feel so honoured that you have come all the way from UK to join us and bought a new suit to match with the rest of groomsmen's outfit. We are so happy to hear that you have enjoyed your first Chinese wedding! Any woman who marries you is going to be very lucky.
Jess: Jess you have been a great host to Ling's family. We still remember the day you brought us to select the gold jewellery. You also helped Ling wear her kua and help her with her shoes and hair accessory at the bridal room in Hong Kong. You also helped Leung mum with her clothes. Thank you Jess.
Sandy Wu Chen-Ying & Panagiotis Konstantinidis (Panos): Sandy, time and time again you have shown your sincerity and warmth as wonderful friend. You went out of your way to wear the bridesmaid dress (we are very proud to know that it was only your 2nd time to wear a skirt!). We are so touched that you travelled from Taiwan and Panos all the way from Greece to join us in our celebrations. Panos, you have a great sense of humour. We wish you every happiness in your journey of love.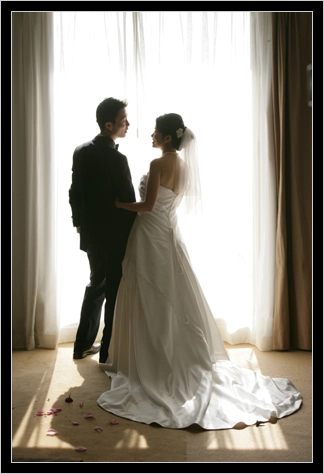 Shamini Nadarajah: Shamini, you looked so striking and pretty in the Sari in Malaysia. There were so much emotions in your speech, and all the beautiful memories of Stafford came flashing back to us the moment you cried. We are so happy to see you and your mum travelled from Seremban to see us. You are the best curry chef to us always.
Lawrence Tsang (guest photographer, HK): We are so lucky to have you as our friend. We could not believe it when you offered to help us photograph our wedding! You are not only an awesome photographer, you are also an inspiring individual. You are also down to earth, humble and always have a kind heart to help your customers and friends. It is really "yuen2 fen4" to have met you.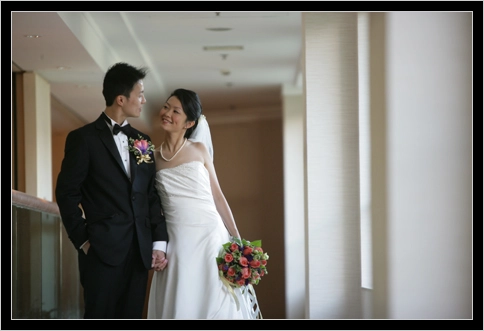 Chew Lee Wan: Wan, when we heard that you had to use the macro function to take digital photos of the paper photos to make the slideshow, we were so touched by your gesture. Thank you Wan and we wish and Steven the happiest journey into parenthood!
Yvonne Law: Yvonne, despite not keeping in touch for so long, you were still such a genuine friend to help Ling go for the hair and trial make-up. We were so touched. You have given us the confidence to go ahead with booking the make-up artist. It was nice meeting up with you and seeing you at the wedding.
Stanley, Karen and Ying Ying (daughter of Stanley Cheung): Ying Ying thank you for being our flower girl. You are so pretty and cute especially in your little white dress and the lovely hairband. You were so cute you put a smile on our faces. Thank you Stanley and Karen for helping us co-ordinate Ying Ying's outfit.
Mr. and Mrs. Lam, Sunny (son of Miss Ling): Sunny, you are such an intelligent, sociable and handsome young boy. We are so happy to have you as our ring bearer. You knew what to do with the rings! Miss Ling, you are one of the best Maths teacher I have ever have. Thanks for all your encouragement and guidance along the way. Lam Sir, I always remember the time you coached the man's volleyball team. Although I wasn't that tall at the time, you have been great to me.
Jamie Lew Li Wan: Thank you for coming from Kuala Lumpur to attend our wedding. Ling is very happy to see you after 10 years. You looked lovely that night and we enjoyed your speech. Do you remember that you laughed when you began the speech? It was such an infectious laugh.
Carol Tsang: Carol, you helped us order our wedding invitation cards in Hong Kong. Thank you Carol, for going to the printing company back and forth to agree on the format and wordings for the card. We appreciate your help and your presence at the wedding.
Ee Kai Poh (Sway Kor): Sway Kor and her family have been through so much in order to join us in Hong Kong. Despite missing their flights for the 6 of them, we were speechless when they bought a brand new set of flight tickets. We cannot thank you enough. We feel extremely honoured you made it to Hong Kong in the end to join us. Thank you Sway Kor, uncle Teck Keong and family. Your presence have meant so much to us.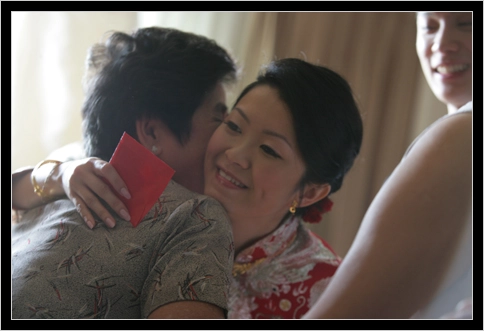 Aunty Judy, Uncle Ah-Chai: Aunty Judy was the "dai kam jie" in Hong Kong. Aunty Judy, you also helped Ling buy her evening shoes. Thank you aunty Judy. You looked beautiful on both ocassions. Uncle Ah-Chai, thank you for coming back from Indonesia to join us on our wedding day. Thank you for the "lai-see" you gave Leung for his singing!
Chong Pei Pei: Pei Pei you helped us create more atmosphere by lending your "voice" for the toasting ceremony. Of all people, your "yam" and your "seng" was the loudest that night. Thank you for coming from Malaysia to join us to Hong Kong. You have been such a supportive cousin for Ling.
Our friends & relatives from Hong Kong & Malaysia: We know that each one of you have travelled very far to join us in our celebrations. Your presence have made a huge difference for us and made the event very memorable.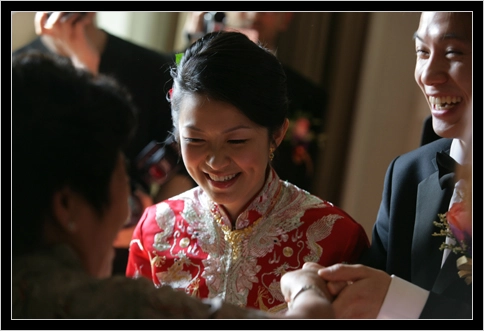 Our friends & colleagues from UK: Thank you for your lovely gifts and cards. We appreciate your blessings and will enjoy the presents for many years to come.
Last but not least, the official people who have worked very hard and have exceeded our expectations: Robin Ng (photographer, Malaysia), Peter (videographer, Malaysia), Alex (pre-wedding photographer, Malaysia), Ms Han & assistant (make-up & hair, Malaysia), Anthony Ho (photographer, HK), Terry, Alex and crew (videographers from One Shot Production, HK), Ms Sandy Wong (make-up & hair, HK).