Recently, there are many brides who have been talking about the concept of "Trash the Dress".  This is something I would like to try as well. Trash the Dress means photographing a bride in her wedding dress, in unusual locations such as in abandoned warehouses, rivers, railway yards, beaches, skate parks and even muddy swamps. Most of the dresses don't actually get trashed literally, they may get dirty and wet, but in most cases dry cleaning will get the dress looking great again. For full article, please go to SWPP site.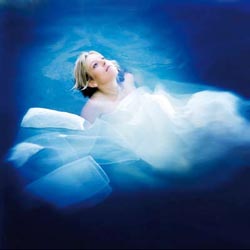 Trash The Dress has been hugely popular in the US, inspiring photographers and brides, as well as grabbing   the media spotlight around the globe. The UK, along with Europe, is fast catching on to the idea. Many photographers are now offering these sessions to their clients and making them aware that this concept exists. You'll find that bridesto- be on wedding forums are regularly talking about having a session after their wedding, or that they've already had a session.

The trend began in America, when a photographer named Mark Eric (www.markeric.net)  shot his first Trash the Dress session in New York and soon after registered the domain name www.trashthedress.com Thus began the very successful website. Mark was originally inspired by another wedding photographer, John Michael Cooper (www.altf.com) , who shoots his own style of inimitable 'anti-bridal' images, many of which have become iconic, eg the burning bride image. Despite running his own business and juggling family life, Mark, along with his administration team, has created a huge buzz around Trash the Dress. In less than one year from the launch of the website, the statistics had hit over 1,000,000, with almost 4,000 hits daily. The site currently boasts a massive following ranging from brides, vendors and photographers and it has been featured in the media worldwide, and especially throughout America, for example in the New York Times, on Good Morning America and Entertainment Tonight, as well as a host of worldwide bridal and digital photo magazines. Needless to say the publicity has been both positive and negative.
On the positive side, many brides and photographers have accepted the concept and are eager to create something unusual and artistic either simply for a personal memory or as something to go on their wall as a piece of artwork. On the other hand, there are some that feel it's a travesty to ruin an expensive dress or that it's simply a temporary craze that will pass. Whether or not TTD is just a trend remains to be seen – but really, does it matter? At this moment, and as with anything, that's all that truly matters; it's an enjoyable opportunity for clients to get back in front of the camera and experience something that they probably would never have had a chance to had this 'trend' not come along.