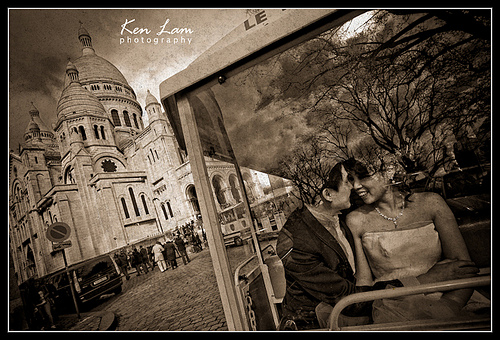 Sneak preview of Diana & William – Pre-wedding in Paris
Sneak preview of Pre-wedding in Paris
On my birthday, there were friends who asked why I still had to work.  Honestly, I totally forgot this special date and simply put down on my schedule when they asked me.  After Shirley mentioned it, I then realised it.  🙂  Travelling alone for destination wedding assignment isn't easy.  I mean it is actually quite tough because I always miss my loved ones back home.  This time, fortunately, Shirley and Karl followed me this trip.
Back to the couple, I feel so happy to get to know William & Diana as they are the first British born couple who came to Paris for engagement/pre-wedding shoot and I was also surprised when Diana showed me all the wedding images I took in the past on her Apple I-Phone.   Thank you so much for your appreciation.
To see my images appear on my client's mobile is one of the best birthday present on the day.   I also want to say that I absolutely love the Vera Wang wedding gown which Diana wore, simple but beautiful.
Although it was raining most of the day,  I considered it as a challenge.  The weather didn't bother me and the couple at all.  In fact, it kept me motivated and was even more satisfying to capture images under this condition.  Diana and William did not show any sign of tiredness but smiled the whole day long which amazed me as well.  Last but not least, thank you so much for the thank-you present, an Easter chocolate box set.  I didn't expect it at all but Shirley and I love it so much 🙂
Upcoming post – Wedding in Nottingham