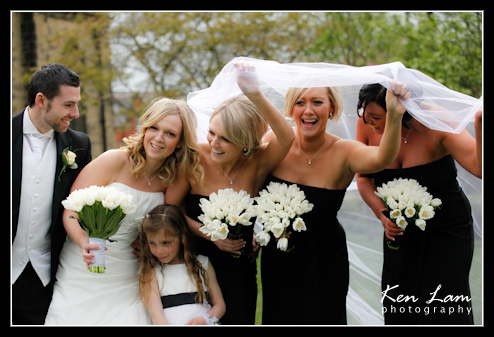 Stacey & Wayne – Wedding at The Holy Trinity Church
Stacey is one of my earliest clients who booked me in 2009 for her wedding this year.  I cannot THANK YOU enough for the trust and confidence Stacey had put in me.  Back then, I was so busy in my work that I had neglected the "qualification" side of my profession.  Stacey has done a lot of research into looking for the "right" photographer and she feels that she would be more confident if I was a member of the MPA (Master Photographers Association).  However, despite not being a member at the time, Stacey entrusted me with a lot of faith to become the official photographer of her wedding.
Half a year later, I finally had the time to submit my prints to the MPA and was accepted as a member succesfully.  In October last year, at the MPA Awards night, I was extremely honoured to be awarded the Kodak Wedding Photographer of the Year.  At that moment, I thought of Stacey and Angela (Stacey's mum) who said to me: "Ken, although you are not an MPA, you are a brilliant photographer in our eyes.  We want to see your work being recognised…we know you can do it, go and get them!"  Stacey, Angela and Wayne, thank you so so much for your support – it means a lot to me.
For Stacey's wedding, I really like how she has incorporated traditional and modern elements to the wedding.  A traditional church ceremony at the Holy Trinity Church, and followed by the reception at the modern Azzuri Restaurant in Quayside.  I also love the black & white theme (bridesmaids dresses and flowers) – they work very well for the photographs!
Here are some of my favourites from the day.
Stacey – Looking beautiful and radiant as the bride of the day.
Having a laugh with the girls.
Wayne and the ushers.

Here comes the bride…
Posing at the High-Level Bride, Newcastle upon Tyne.
I love this shot.  The bond between a father & daughter.
Tears… an emotional speech delivered by Stacey's father.
…and laughters.
After a nervous morning, it is time for some calm.
First Dance as husband & wife.