Jeannie & Kelvin – Engagement photoshoot in Paris
These 10 days have been a big challenge for me; my mental and physical strength as a wedding photographer has been put to the test.
After I finished the photoshoot in Florida, US and arrived back home in Newcastle through London on the 8th June, backed up all the photos in the PC on that night, I had to fly to Paris the following day for another destination assignment. However, it didn't really affect me at all as I enjoy photography a lot and every opportunity is fresh to me.
Kelvin found me through the internet a while ago. We have been communicating through emails and phone calls up until we first met in Paris. We did not meet until the day I arrived in Paris. Kelvin is an architect who spent most of his time in UK and Jeannie works for a logistic company in HK. They met in Hong Kong through Kelvin's brother. I believe it was like love in a first sight.
Jeannie and Kelvin, thank you for putting your trust to me. I feel honoured to be your photographer. Jeannie is a very organised bride to be. Her mum told me that she had taken a lot of studio photographs before in Hong Kong. Therefore, I believe that she has some expectations for this photoshoot as well. She arranged all the bridal dresses herself and for Kelvin from HK. She also did her own make-up during the two days of photoshoot and prepared her own hand-made flower bouquet. I am impressed by her abilities.
We had 2 days photoshoot under the strong sunlight and both of them were so professional and did not look like tired at all. Kelvin is a caring person too, I still remember he ran out to search for sun cream and umbrella just for Jeannie. It shows how much he cares for her.
Here are the photos: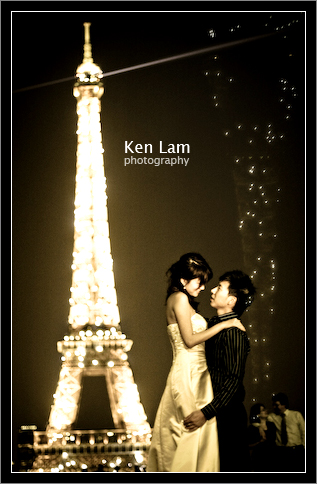 Just arrived in Trocadero, and I saw the Effel Tower blinking. I quickly told them to stand on a platform and I used the Lite Panel to lit up the couple to create some ambient light.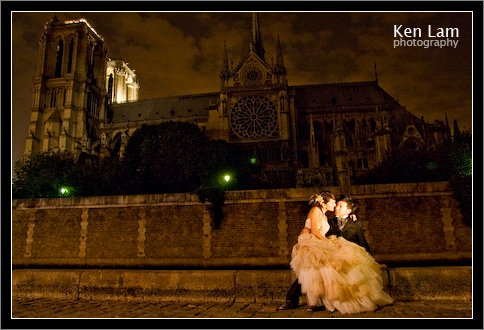 Romancing at the Notre Dame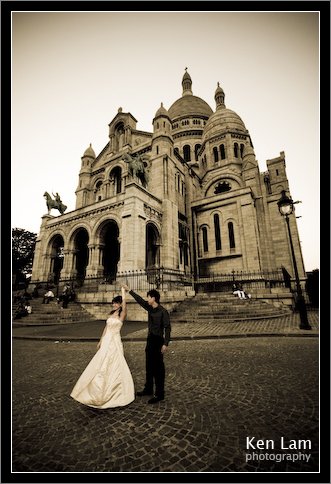 Dancing by the Scare Coeur church, the highest place in Paris.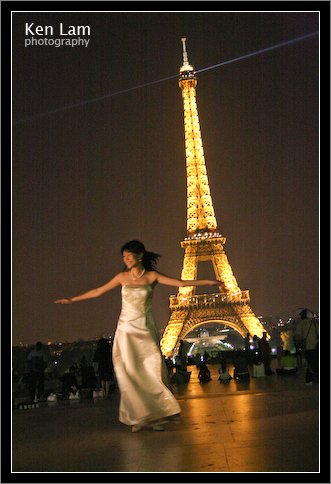 It is quite a wide area for tourist to capture the best of Eiffel tower. While I was instructing Jeannie how to dance, there were so many Japanese tourists taking photos of Jeannie.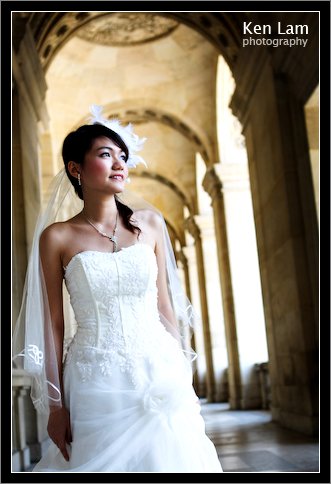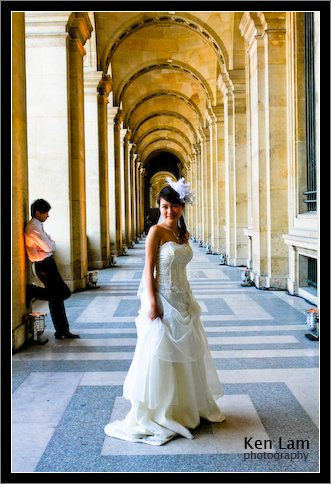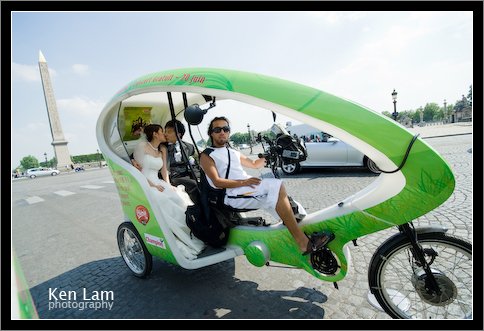 It was very hard to find a taxi and we saw this trishaw next to the Concorde. So, we decided to hire two trishaws for photoshoot in Champs-Elysées, Paris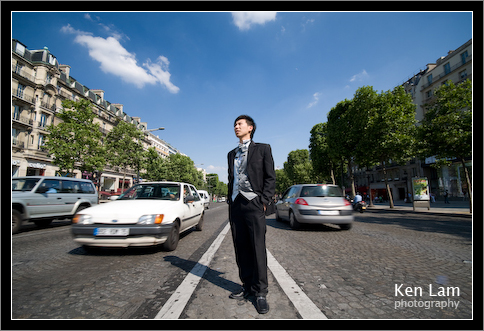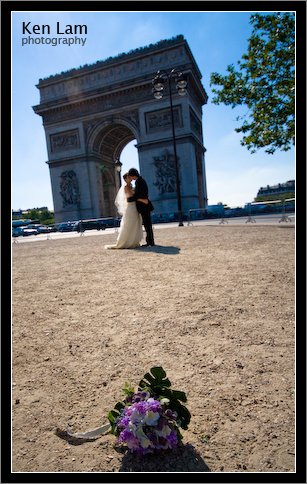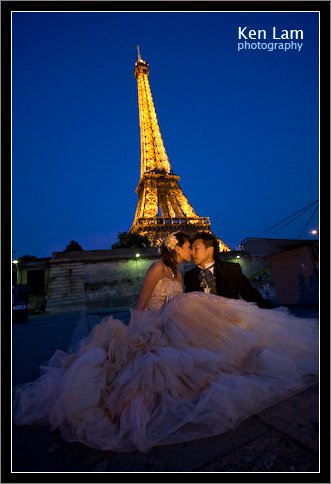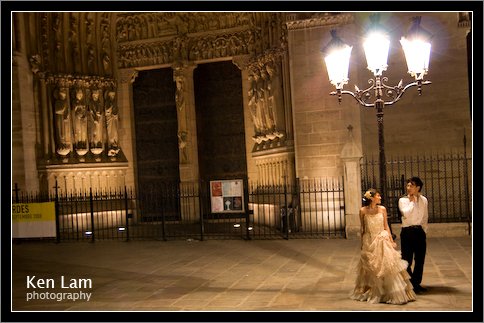 I captured this shot of the couple by using the street light to lit up the couple.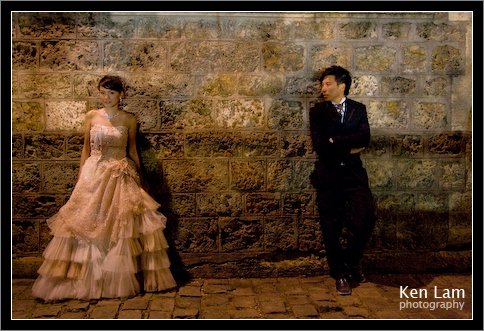 Thanks to the boat that passed by with the strong white light hitting on the faces of the couple, allowed me to capture this shot without using any lighting equipment/flash.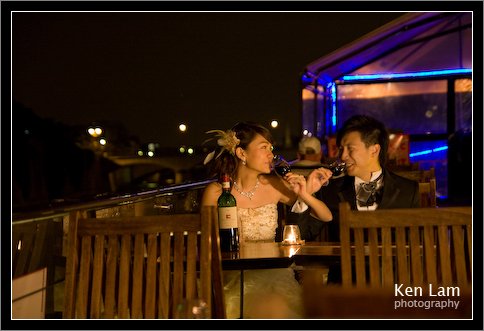 It was nearly 12:30am and we were still having photo shoot on the street. Kelvin suggested to go to restaurant by the Nortre Dame. It was a good opportunity to capture somemore romantic photos:)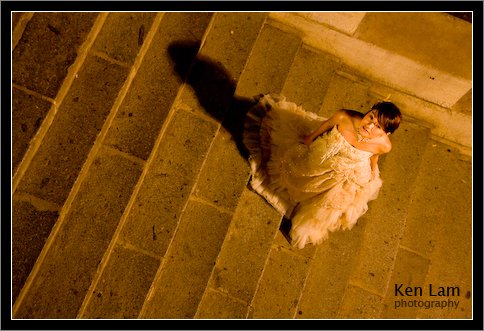 I love the texture of the stairs. Therefere, I used it as a background and told Jeannie to look up.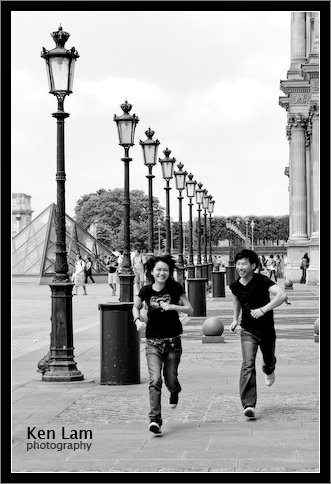 2 hours before we went to the airport, some causal shots in the area of Lourve museum.