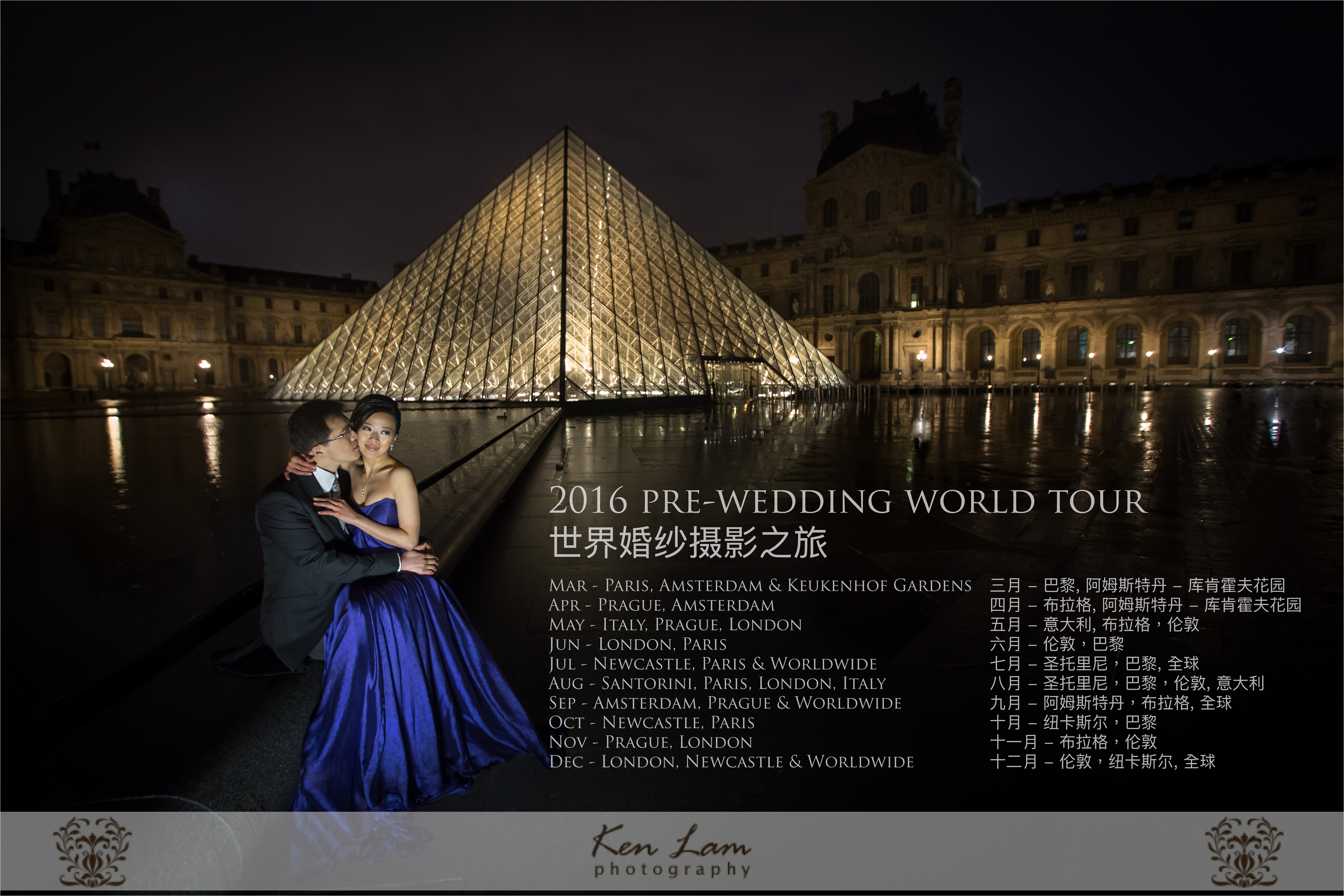 2016 Europe Pre-Wedding Photography 欧洲婚纱摄影之旅
Pre-Wedding Photography in Europe 欧洲婚纱摄影之旅: London, Paris, Prague, Florence, Santorini, and more…
I am pleased to announce my 2016 schedule for Pre-Wedding Photography Tour in Europe!  As many of us know, it has been a huge shock to the world what happened to Paris, nonetheless, Paris is still one of the most beautiful cities in the world to visit and to photograph.  In fact, Paris still remains to be the most popular location for pre-weddings this year.
This year's pre-wedding photo-shoots will take place in the following locations: Paris, Provence, Prague, Amsterdam & the Keukenhof Gardens, Florence, Santorini, London and Cambridge.  If you wish to have your pre-wedding photography at a place not on the list, please let me know as I am based in the UK, so myself and my team can fly to any part of Europe (or the world).
Apart from my pre-wedding assignments, I am also a wedding photographer and really enjoy working at the beautiful Newcastle and Northumberland areas where I live. I am looking forward to the weddings that I am going to photograph this year at Beamish Hall, Rockcliffe Hall, Wynyard Hall, Lumley Castle, Matfen Hall and Lartington Hall!
I would also like to take this opportunity to wish all of my clients a very Happy Chinese New Year – and thank you very much for all your support, because of your support, I get to continue to do what I love doing.
我很高兴地宣布,2016年的欧洲婚纱摄影之旅!许多人都知道,巴黎发生了什么事,但它仍然是世界上最美丽的城市之一。 今年的婚纱摄影包括这些美丽的地方:巴黎,布拉格,阿姆斯特丹和库肯霍夫公园,佛罗伦萨,圣托里尼,伦敦,剑桥,曼彻斯特,等等。如果您希望您的婚纱摄影在不同的地方,请让我知道,因为我们的团队住在英国,所以我们可以飞往欧洲或全球的任何部分。
我也想借此机会祝所有我的客户一个非常快乐的农历新年 – 以及非常感谢您一直以来的支持。