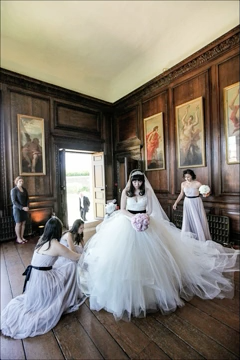 Chinese Wedding at The Hampton Court Palace, London
A few weeks ago, I had a wonderful opportunity to photograph a wedding at the Hampton Court Palace in London. It was a honour as it is a very grand venue for a castle wedding.  The grounds of Hampton Court Palace is massive, so massive that we had to use a golf buggy to drive us around during the photo shoot session!  The weather was unusually hot. Therefore, it was quite challenging.
Amanda & Victor was very caring towards everybody including myself; they always made sure I enjoyed myself during the wedding (I was there to work!).  I was arranged to sit alongside Amanda's mother.  I felt honoured and privileged as I did not expect this at all.  Sometimes wedding photographers are the people who are quite easily forgotten when things get a bit hectic or stressful during a wedding.
The wedding was not just luxurious and opulent, from the venue being The Hampton Court Palace, to Amanda's grand Vera Wang dress, but had fun elements in it as well.  There were a chocolate fondue fountain, a dessert table with loads of sumptuous macaroon, an ice-cream van, and a Hello Kitty photo booth 🙂 . It was a generous treat to all the wedding guests.  It was indeed a perfect fairytale wedding.
Amanda_Victor.mov from Ken Lam on Vimeo.
Hampton Court Palace Wedding by Ken Lam Photography