Europe Pre-Wedding Photography 2015 – Paris, Prague, Rome, Venice, Florence, London, Santorini 歐洲婚紗攝影
We are pleased to finalise our pre-wedding schedule for this year 2015.
Last year was quite a year to remember!  Apart from our most popular pre-wedding photography locations such as Paris, Prague, London and Santorini, we travelled to Castle Neuschwanstein in Germany (the castle was the inspiration for the castle at DisneyWorld and Disneyland), experienced an incredible bird's eye view of London in our client's own helicopter, and photographed an amazing wedding dress designed by renowned British designer Marchesa, and met many inspirational and lovely people along the way.   This is what makes our work so enjoyable and worthwhile!
This year, we are looking forward to another exciting year – and looking forward to work with all the lovely people who have booked us.  Most of you who know us will know that we are very busy in our personal lives (especially with our super-active-never-stop-little-boys, can they not come with an "off/sleep" button?!) that we rarely have time to advertise or market our business.  Thank you very much to all our previous clients, who have been very generous in your compliments, and for your consistent support and recommending your friends and families to us.  We thank you very much from the bottom of our hearts.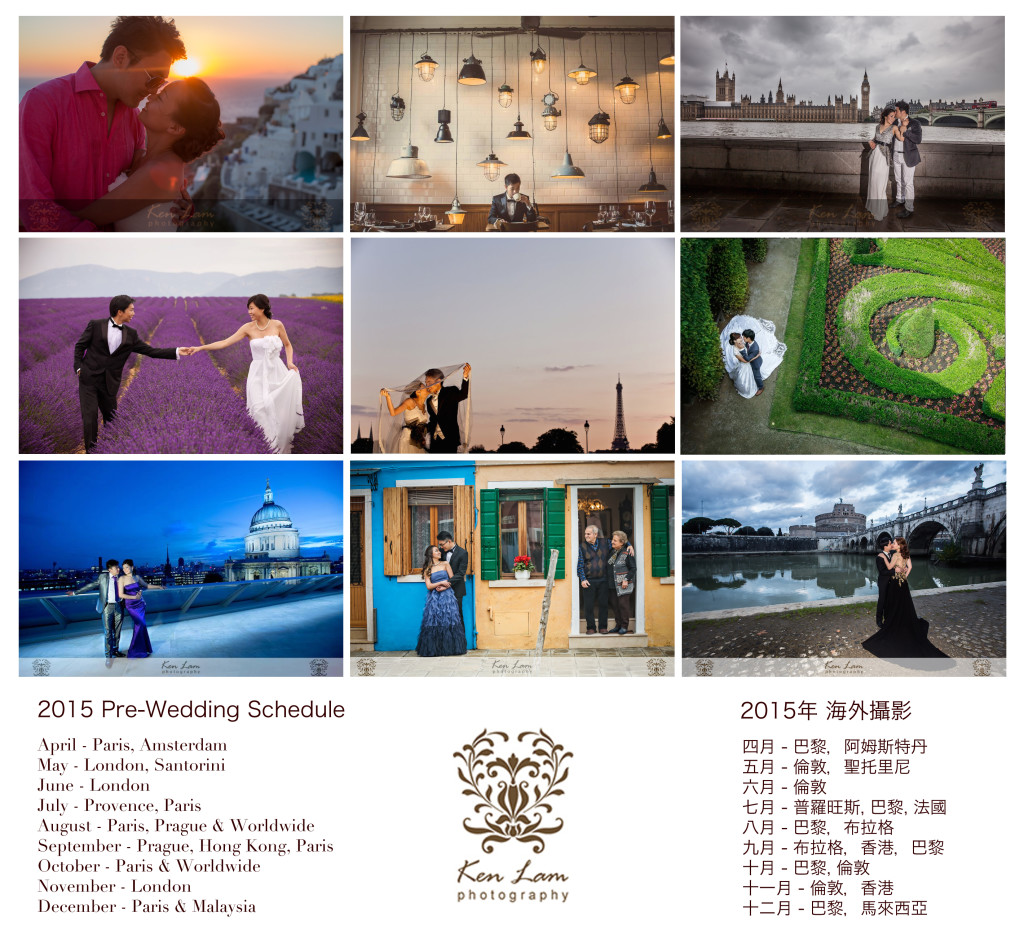 Pre-wedding Photography Schedule 2015
April – Paris, Amsterdam
May – London, Santorini
June – Prague, London
July – Provence, Paris
August – Paris, Prague & Worldwide
September – Prague, Hong Kong, Paris
October – Paris & Worldwide
November – London
December – Paris & Malaysia
2015年 海外攝影
四月 : 巴黎,阿姆斯特丹
五月 : 倫敦,聖托里尼
六月 : 倫敦
七月 : 普羅旺斯, 巴黎, 法國
八月 : 巴黎,布拉格
九月 : 布拉格,香港,巴黎
十月 : 巴黎, 倫敦
十一月 : 倫敦,香港
十二月 : 巴黎,馬來西亞
If you would like to find out more about our photography services, availability and prices, please do not hesitate to drop us an e-mail at [email protected]/blog