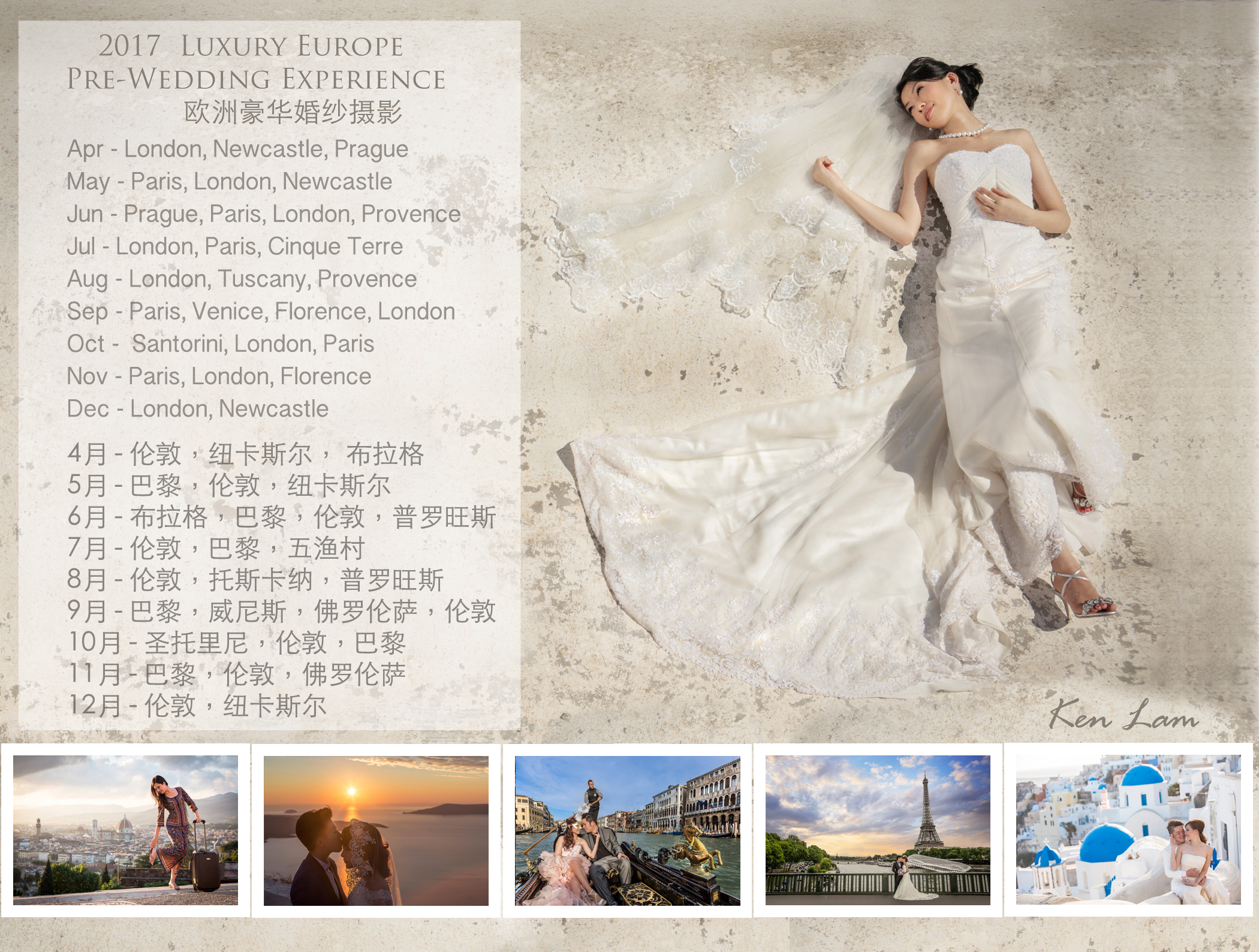 2017 Europe Pre-Wedding Photography – Paris, Santorini, Venice, Rome, Provence, Tuscany, Florence, Prague
Europe Pre-wedding Photography 2017

歐洲婚紗攝影
We are delighted to announce the dates for another exciting year of pre-wedding photography in the beautiful cities of Europe.  This year, we are going to the beautiful Paris, Prague, Venice, Rome, London, Santorini, Cinque Terre, and Seville in our pre-wedding photography tour in Europe.
If you have a city which you would like to go and is not listed here, or you have a fixed date in mind for a certain location, please feel free to let us know.
Pre-Wedding Photography Team in Europe
As our professional photography team (photographer, make-up artist, hair-stylist, and transport team) is based in UK and Europe, we are flexible to travel most times of the year and can enjoy relatively low-cost flight tickets to fly to the European destination of your choice.  This means that you will still experience a luxurious, glamorous, fun, and memorable pre-wedding experience without costing the Earth!
Every pre-wedding photography package comes with:
Professional photography from Award-Winning photographer, Ken Lam
Professional make-up artist and hair-stylist (who has mastered her craft for over 10 years)
Please contact us on [email protected]/blog or call/whatsapp +4474 1123 4948 for more information on our pre-wedding photography experience.
我們很高興地宣布另一個令人興奮的美麗歐洲婚前攝影日期。今年,除了美妙的巴黎,布拉格,聖托里尼和倫敦,我們會攝影意大利五漁村,和西班牙城市塞維利亞。如果您想去的城市沒有在這裡列出,請隨時聯繫我們。

由於我們的專業攝影團隊(攝影師,化妝師,髮型師)總部設在英國,我們可以飛往您選擇的歐洲目的地。如果您想了解更多信息,請聯繫我們 [email protected]/blog 或 致電 / whatsapp +4474 1123 4948。
2017 Europe Pre-Wedding Experience
April – London, Newcastle, Prague
May – Paris, London, Newcastle
Jun – Prague, Paris, London, Provence
Jul – Paris, Cinque Terre, Prague
Aug – London, Tuscany, Provence
Sep – Paris, Venice, Florence, London
Oct – Santorini, London, Paris
Nov – Paris, London, Florence
Dec – London, Paris, Tuscany, Newcastle
2017 歐洲

婚紗攝影
4月 – 倫敦,紐卡斯爾,布拉格
5月 – 巴黎,倫敦,紐卡斯爾
6月 – 布拉格,巴黎,倫敦,普羅旺斯
7月 – 巴黎,五漁村,布拉格
8月 – 倫敦,托斯卡納,普羅旺斯
9月 – 巴黎,威尼斯,佛羅倫薩,倫敦
10月 – 聖托里尼,倫敦,巴黎
11月 – 巴黎,倫敦,佛羅倫薩
12月 – 倫敦,巴黎,托斯卡納,紐卡斯爾